<! -------------- TEXTE CONTENU TRIP ------------------->
Why take an E-bike to do the 'Tour du Mont Blanc'?
At Alpsmountainbike.com we have always loved long mountain climbs, technical trails, endless descents and discovering new landscapes.
It's our life, our passion, our blood, our DNA, it's who we are, our reason for being.

The Alps provide an extremely demanding terrain, equally technical and physically challenging and we believe the E-bike is the perfect tool for those who, like us, want to ride longer and further on some of the most beautiful mountain singletracks in the world.
Having tested the E-bike we've realised the extent to which they can open up the possibilities for discovery in the Alps for experienced riders!
Far from seeing the E-bike as a way to do the same itinerary more easily, we see it as the perfect partner to help expand the possibilities for exploration and increase our fun and pleasure on the more difficult mountain terrain.
Our dream to ride further, cover more ground, to have more and more fun discovering new possibilities is at last realised with the E-bike.
Imagine riding more than sixty kilometres on mountain trails, climbing 2500 to 3000 meters and then dropping 4000 meters on single tracks all in the same day only to start again the next day, and the next, and the next. Is that not every mountain biker's dream?
We propose our Tour du Mont Blanc (TMB) 'Express' over four days which includes new trails that we are unable to include in our 'Classic' tour for lack of time.
<! -------- DAY 01 ARRIVAL ------------------->
Information
This trip is for bikers of an advanced or expert level. It is not for beginners because despite the battery assistance you will need to pedal, sweat and earn your decent which will be on alpine, technical singletracks that require a minimum level 3 in order to have fun.
You can come with your own E-bike (fully suspended with 5"/130mm+ travel) or rent one in Chamonix (we can provide a list of bike descriptions and prices upon request).


---
The Schedule: arrival Saturday
Warning: This itineray is given for your information and may be changed at the discretion of the guide depending on the weather conditions, physical ability of clients and the trail 'options' we decide together.

DAY of arrival (Saturday): Arrive in Chamonix at the "Pointe Isabelle" hotel, recuperate and prepare the E-bikes. During dinner there will be a briefing of the trip.
<! -------- DAY 02 ------------------->

DAY 2 (Sunday):
Taking the lifts from the resort of La Tour we switch over to Switzerland via a magnificent trail that will allow us familiarise ourselves with our bikes. We will traverse Martigny-Ville in the morning then climb to the Lac de Champex via a mix of large trails and singletracks.
During the afternoon we will rejoin the classic TMB itinerary composed largely of single tracks. After this long and varied day a cold beer awaits us on the terrace of our hotel in La Fouly with a view over the Swiss glaciers.


Ride distance: 70km
Uneven positive: 2400m Uneven negative: 2500m
<! -------- DAY 03 ------------------->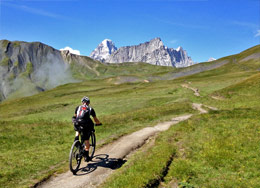 DAY 3 (Monday): Today we cross two borders, from Switzerland to Italy, then back to France. We climb the two highest passes on this Tour du Mont Blanc: the Grand Col Ferret and the Col de la Seigne.
We are rewarded for our efforts with a ride over the ridge of Mont de la Saxe where both the trail and the scenery are absolutely fantastic!
Having met with the support van in Courmayeur (Italy) to change our batteries we then continue via the pass and lake 'Checroui' to the beautiful turquoise lake 'Roselend' (France) around which we will spend the night.
Ride distance: 65km
Uneven positive: 2600m Uneven negative: 3200m
<! -------- DAY 04 ------------------->

DAY 4 (Tuesday):On this forth day we invite you to come and discover the wild and magnificent Beaufortain region.
During the morning we will circle the lake using a ridge path that you will remember for the rest of your days!

The views across this lake and over the Mont Blanc will take your breath away.
After lunch we climb in the direction of the Col de la Gittaz then flip over into the Vallée des Contamines-Montjoie via a legendary singletrack.
Here we spend the night.
Ride distance: 60km
Uneven positive: 2300m Uneven negative: 2500m
<! -------- DAY 05 ------------------->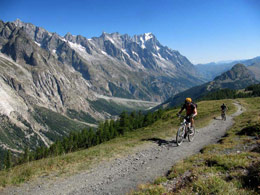 DAY 5 (Wednesday):
Heading back to Chamonix using part of the Tour du Mont Blanc we pass at the foot of two immense glaciers: Miage and Bionnassay. The last decent into the village of Servoz will be the cherry on the cake of this tour. This endless, playful, varied and sometimes technical track brings together all the elements that constitute bikers dreams!
Back in Chamonix we will return the bikes and enjoy a last meal together.
Ride distance: 53km
Uneven positive: 1950m Uneven negative: 2300m
<! -------- DAY 06 ------------------->

DAY 6 (Thursday):
Breakfast and departure to Geneva airport
<! -------- NB ------------------->
NB: this tour is run with a minimum of 4 clients. Lunches on Saturday of arrival and Saturday of departure are not included, but can be arranged at an additional cost.
<! -------------- FIN TEXTE CONTENU TRIP -------------------> <! -- ZoneTable DATES ETC....-->
Price
<! ------------------- ------------ DATES ------------------------->
Dates 2018

From June 16th to 21st

From June 23rd to 28th

From June 30th to July 5th

From July 7th to 12th

From July 14th to 19th

From July 21st to 26th

From July 28th to August 2rd

From August 4th to 9th

From August 11th to 16th

From August 18th to 23th

From August 25th to 30th

From September 1st to 6th

From September 8th to 13th

From September 15th to 20th

From September 22nd to 27th

From September 29th to October 4th

From October 6th to 11th

From October 13th to 18th

<! ------------------- ------------ FIN DATES ------------------------->

Level
MORE INFOS
Distance
250 km
Ascent
9250 m
Descent
10500 m
Duration
6 days: arrival on saturday , departure on thursday
5 nights accomodation
4 days riding

Terrain

All kinds of trails !
Cruisy 2 path trails
From easy to technical singletracks (some very technical) 'rocky and rooty' trails.

Location

Starts and finishes in Chamonix, passes through France, Switzerland and Italy

Lodging

5 nights accommodation in a mix of hotels (based on double occupancy twin bedrooms)

Included

the guiding by a graduated French bilingual professional mountain bike guide

expenses of organization

5 dinners / 5 continental breakfasts

4 gourmet lunchs during the riding days

5 nights accomodations in twin to quad room

the transport of your luggage from place to place

mechanical assistance at night

free access to a complete tool box to maintain your bike

the road transfers when needed and ski lifts in Chamonix valley

the pick up and drop off at Geneva airport on saturday arrival and departure day only

the "Alpsmountainbike" jersey.

Not Included

the fight ticket to Geneva airport

the expenditure in personal matter (drinks energetic drinks and foods etc...)

the bicycle hiring if needed

the expenses of repair and maintenance of the bicycle

the cancellation/help insurances and repatriation

and in general way all that is not included/understood in the heading "the price includes/understands"
<! -- / ZoneTable -->