<! -------------- TEXTE CONTENU TRIP ------------------->
Our Mountain biking holidays in Morocco is truly an amazing and unique experience !
Ride technical singletracks in the sun soaked mountains and descend through lush green cultivated oases. Discover hidden villages nestled in the mountainsides of the Atlas. Taste the local specialities, vegetable tagines, spiced roast lamb, the sweetest dates and stone baked bread. Take time to sit in the shade sipping sweet mint tea over a game of backgammon with the Berbers. Let us help you discover what this fabulous country has to offer…Spectacular arid scenery, unspoilt mountain and valley vistas offering up superb Mountain Biking trails with a rich local culture and the warm Moroccan welcome !!
<! -------- ARRIVAL ------------------->
The Schedule: arrival Saturday
Warning: This itineray is given for your information and may be changed at the discretion of the guide depending on the weather conditions, physical ability of clients and the trail 'options' we decide together.

DAY of arrival (Saturday): 'Meet and great' by ourselves on your arrival in Morocco at Marrakech airport and transfer to evening accommodation. Deposit baggage and breathe in the frantic pace and aromas of Marrakech. Time for unpacking and preparation of bikes.
<! -------- DAY 01 ------------------->

DAY 1 (Sunday): Departure from Marrakech by 4x4 towards the Tizi n Tichka pass (2240m) and the village of Telouet. Here we find ourselves in the High Atlas. From this pass we are now heading into the arid south where life concentrates around river beds… After lunch we will climb quite high in altitude (between 1700 and 2200m) on a mix of 4x4 tracks and singletracks to arrive in Tighza.

The terrain is mountainous and the scenery inspiring, like falling into an ancient world. Raw mountainsides with their earthy toned villages, dotted with indigo coloured doors and impressive Kasbahs (castle like fortress made of sun baked mud) rise out of vivid green trees. Here we meet with the local Berbers..
Ride distance: 40km
Uneven positive: 600m

<! -------- DAY 02 ------------------->

DAY 2 (Monday): On the menu today are dry baked earth red rocky trails and desert. We will ride through sleepy Berber villages via quiet tracks where we may pass a donkey or two… heading to Ouarzazate and the heart of the south. Looking down the valley the view is breathtaking. Passing through a deserted valley, following the Oued (river) and ending the day in the 'gardens of Ouarzazate', the lush green sanctuary of a vast plantation of palm trees.
Ride distance: 60km
Uneven positive: 800m

<! -------- DAY 03 ------------------->

DAY 3 (Tuesday): Starting the day with a short 4x4 transfer to join the track on the mountain side where we will begin today's adventure. From here we will head to 'the valley of the roses', world renown for the growing of the fabulously scented Damascus rose and a classified UNESCO site. We will ride onwards into a lunar landscape with red rocks and a chain of Berber villages and on through the amazing gorges of the Agouti River the day is spent on a mix of 4x4 trails and singletracks !
Ride distance: 60km
Uneven positive: 1000m
<! -------- DAY 04 ------------------->

DAY 4 (Wednesday): Here we are now in the heart of the Atlas Mountains. Riding through the M'Goun Valley one of the most beautiful valleys in Morocco and head towards the mythic gorges of the Dades, a must see before you die place ! From here we will follow the riverbed and ride the altitude desert of Aït Youl to the village of Bou Taghrar. With so many different landscapes in one day it is incredible and sensory overload. This day is just magic !!
Ride distance: 50km
Uneven positive: 900m
<! -------- DAY 05 ------------------->

DAY 5 (Thursday): After the climb of the Taliouit pass we ride down the valley of Boulmane Dades. From here we follow the 'valley of the 1000 Kasbahs'. A rolling singletrack along the river bed, where we will ride through palm tree plantations, numerous villages and pass a multitude of Kasbahs as the name might suggest! Riding between the High Atlas range and the Djbel Saghro, we will end the day in Skoura under its famous peaceful palm tree plantation.
Ride distance: 50km
Uneven positive: 600m
<! -------- DAY 06 ------------------->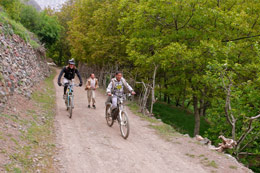 DAY 6 (Friday): Wow already the last day ?!

Starting the day with a short transfer to the northern side of the Atlas, where we will have time for a quick visit to the fortress of Aït Benhaddou. Then we head to the last trail of the trip. Almost 30km of downhill singletrack freeride out of the Northern Atlas ! Surrounded with pine woods, we encounter swooping corners, red dirt, spongy pine needles and skids whilst slaloming through the trees. A fine way to end this epic adventure.


Ride distance: 30km mostly downhill: yummmyy!

Dismantle and pack bikes ready for departure the following day. Next stop the souks to slip your feet into a pair of hand crafted babouche slippers and on to a cool rooftop dinner with the spiced aromas of cooking and sweet pastries to fill the senses.

<! -------- DAY 07 ------------------->

DAY 7 (Saturday):Transfer to Marakech airport.
<! -------- NB ------------------->
NB: this tour is run with a minimum of 4 clients. Lunches on Saturday of arrival and Saturday of departure are not included, but can be arranged at an additional cost.
<! -------------- FIN TEXTE CONTENU TRIP -------------------> <! -- ZoneTable DATES ETC....-->
Price
<! ------------------- ------------ DATES ------------------------->
Dates 2018

From April 7th to 14th

From April 14th to 21st

From April 21st to 28th

From April 28th to May 5th

From May 5th to 12th

From October 6th to 13th

From October 13th to 20th

From October 20th to 27th

<! ------------------- ------------ FIN DATES ------------------------->

Level
MORE INFOS

---

Physical Fitness: 3/5 Technical Skills: 2/5 to 3/5

Distance
295 km
Ascent
6000 m
Descent
6000 m
Duration
8 days: arrival on saturday , departure on saturday
7 nights accomodation
6 days riding
Saturday to Saturday
Terrain

All kinds of trails !
Cruisy 2 path trails
From easy to technical singletracks 'rocky and dry' trails.

Location

Starts and finishes in Marakech

Lodging

7 nights accommodation in a mix of hotels (based on double occupancy twin bedrooms)
Bunk houses and a mountain refuge (group dormitory rooms)

Included

ALPSMOUNTAINBIKE cycling jersey

7 nights accommodation

all meals from dinner on Sunday of arrival to breakfast Saturday of departure (except meals in Marakech)

picnic lunches

Professional guiding

luggage transfer to evening accommodation (inc. mountain refuge)

return transfer to Marakech airport on Saturday of arrival/departure

Not Included

Flights/Travel etc

Expenses of repair and maintenance of bikes

The two meals in Marrakech on day one and the last day

Cancellation/medical insurances and repatriation costs

Bike hire

Alcohol and extra drinks

Mineral water

All that is not included/understood in the heading 'Included'.
<! -- / ZoneTable -->