<! -- ------------ TEXTE CONTENU TRIP ------------------>
Ride the Dolomites:
A region full of mythic tales with many more to be made on bike…

Huge rose coloured towering cliffs define these rocky 'mountainous islands' which we experience in their majestic scale; dry rocky technical singletracks, fast descents, lush green pastures and traditional Tyrolean chalets.

ALPSMOUNTAINBIKE calls them the DOLOBIKES!!
This Dolomite Mountain Bike trip is for 'the brave', it is very mountainous but also very unforgettable !
Mountain biking in the Dolomites… the dream has come true ! Their singletracks have long been calling us and now after hours spent looking at maps and testing the trails, we can propose to you the highlights of the DOLOMITES.

Rosengarten, Val di Fassa, Passo Sella, Dolomiti della Sella, Alta Badia, Passo Falzarego, Cortina d'Ampezzo, Dolomiti di Fanes... the list of legendary spots is long and they are waiting for you!

The Dolomites are a UNESCO World Heritage Site, these mountains are unique. The Dolomites are home to a hardy population as proud of their historic culture and region as the mountains which stand here, with a grace and warmth which echoes the pink hues the rocky cliff faces exude.

The scenery is breathtaking, South Tyrol has a style of its own which can be seen in the local architecture and the cuisine of the region. The accommodation is typical South Tyrolean in style and the hearty cuisine a fusion of Austrian and Italian flavours, Knödel soup, polenta and apple strudel. Energy drinks around here consist of an espresso and a shot of grappa, Italian style! Mountain biking in the Dolomites is like nowhere else.

We will ride from one 'mountainous island' to the next, contouring their dry rocky mountainsides via singletracks and appreciate long and challenging descents, cycle through quaint South Tyrolean villages with their intricate wooden sculptures, recharge our batteries in warm friendly hotels and mountain refuges and refuel with local mountain food ready to face new challenges and impressive Dolomite magic!


The Dolomites are incredible ALPSMOUNTAINBIKE loves them and we are proud to offer this tour…
We know you will fall in love with them too!
<! -------- ARRIVAL ------------------->
DAY of arrival (Saturday):
Warning: This itinerary is given for your information and may be changed at the discretion of the guide depending on the weather conditions, physical ability of clients and the trail 'options' we decide together.

DAY of arrival (Saturday): Meet and great' by ourselves at the hotel in Bolzano, Italy. Deposit baggage at our evening accommodation. Unpacking and preparation of bikes. Last minute shopping requirements and the possibility to visit Bolzano, a beautiful historic Tyrolean city, with narrow Gothic arcaded streets and picturesque squares.
<! -------- DAY 01 ------------------->

DAY 1 (Sunday): Passo di Costalunga to Dolomiti di Sella

Departing from Bolzano we launch into this mythical Dolomite tour with a transfer by minibus climbing via the Passo Nigra to commence our tour from the Passo di Costalunga. We start in the direction of Rosengarten to arrive at the Col de Ciampac and take a balcony trail to arrive at the Rifugio Bella Vista. The name says it all… from here the view is beautiful! Now we launch into a long descent into the stunning Val di Fassa via small alternating singletracks and fast 4x4 tracks. On reaching the valley floor, we ascend the valley along the Avisio River. The last climb to the refuge will give you an appetite for a gastromonic Italian dinner! Here we will spend the night at the foot of the Dolomiti di Sella. The setting is magnificent and a mountain ambiance is ensured here with our view dominated by the steep slopes of Sasso and Catinaccio Piato. A beer and a grappa to boost energy levels after day one, Italian style !

Night in refugio micheluzzi val duron
Ride distance: 50km
Uneven positive: 1400m Uneven negative: 1500m
Physical difficulty: 3/5 Technical skills: 4/5
<! -------- DAY 02 ------------------->

DAY 2 (Monday): Dolomiti di Sella to Alta Badia

A new balcony trail along a singletrack under the unforgettable cliffs of the Sasso Piato enables us to gain 500m of altitude through this beautiful mountain landscape of the Val Duron, leading to the famous road biking destination of the Passo Sella. This singletrack is swiftly followed by a small track on the eastern balcony of the Sasso Piato which offers stunning views of the mountainous island of the Sella massif and to the Austrian Alps! Once at Passo Sella, we will head towards Passo Gardena via a gentle climb through the alpine pastures, the view from the pass on the Dolomiti di Fanes is fantastic. A very scenic singletrack brings us underneath the impressive cliffs of the Puez Peak !

We will finish our day with a great descent on a fun singletrack with lots of switchbacks!! YAAAHOOOO!

Night in Corvara
Ride distance: 45km
Uneven positive: 1500m Uneven negative: 2000m
Physical difficulty: 4/5 Technical skills: 3/5
<! -------- DAY 03 ------------------->

DAY 3 (Tuesday): Tour of the Fanes National park

This tour of the Fanes National Park will allow us to delve into a box of dolomite jewels !

We are going to contour the Fanes National Park clockwise, starting with a gentle climb of the Val di Tamersc as a warm up! The valley is surrounded by high cliffs and you feel miniscule in this dramatic rocky landscape! The climb to the Refugio Fodara will leave you breathless, it is short but super intense. Your legs will be on fire at the top of the climb. The arrival on the plateau di Fanes is stunning, the Refugio Fodara is a welcome stop for a coffee before traversing this rocky and wild plateau from west to east. The descent through the Fanes Park is splendid with a large mix of terrain and ride !!

We will stop in Cortina d'Ampezzo for two nights.
Ride distance: 45km
Uneven positive: 1500m Uneven negative: 1900m
Physical difficulty: 4/5 Technical skills: 3/5
<! -------- DAY 04 ------------------->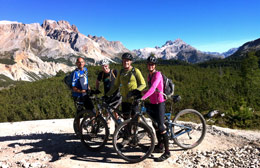 DAY 4 (Wednesday): From Alta Badia to Alleghe

We leave our nest in Cortina d'Ampezzo to reach the Tre Cime di Lavaredo National by minibus. The spot is incredible and the Tre Cime are absolutely unique in the world, riding at the foot of these three limestone teeth is an inspiring experience. From the Tre Cime we will ride a 1200m vertical drop on a fun singletrack down to Valon de Lavaredo, where we will have lunch. After a quick siesta, a long 1000m climb awaits us to reach the Refugio di Carpi where a beer is well deserved after such a climb! A beautiful mixed terrain descent on singletrack and dirt road will take us down to Lake Misurina with a breathtaking view over the Tre Cime di Lavaredo! The spot is a picture postcard of the dolomites! The ride back to Cortina d'Ampezzo is a mix of road, dirt road and singletrack arriving straight to the hotel!
Ride distance: 55km
Uneven positive: 1400m Uneven negative: 1800m
Physical difficulty: 4/5 Technical skills: 3/5
<! -------- DAY 05 ------------------->

DAY 5 (Thursday): Cortina d'Ampezzo to Alta Badia
We will start the day by a climb on a very quiet road which quickly becomes a dirt road with some steep sections to finally arrive at the Refugio di Averau (2413m). Of course a capuccino and biscotti stop is in the program to enjoy the superbe view over the valley of Cortina d'Ampezzo surrounded by the high rocky peaks of the Tofana (3244m). A technical singletrack will take us to the Passo Falzarego then to Passo di Valparola where a fun descent through the fields awaits us. The 600m vertical ascent on dirt road to Pralongia will give you the time to admire the amazing vertical rocky cliffs of the south west of the National Park di Fanes. The shoulder of Pralongia is like a little Tyrol with beautiful wooden farmhouses with grass fields manicured like a golf course !!
The last descent to Alta Badia is great fun and will put a big smile on your face
for the rest of the night!!

Night in Alta Badia
Ride distance: 50km
Uneven positive: 1400m Uneven negative: 1800m
Physical difficulty: 3/5 Technical skills: 3/5
<! -------- DAY 06 ------------------->

DAY 6 (Friday): From Alta Badia to Canazei

The warm up climb to the refugio della Marmotta offers a great view over the Marmolada (3343m) the highest summit of the Dolomites. We will follow the ridge line to arrive at the summit of the epic descent to Arraba ! I am sure you will remember this one! The Arraba cable car takes us to 2478m with a gorgeous view facing the Marmolada Glacier and the Lake Fedaia. The rest of the ride is amazing… a balcony singletrack with breathtaking views, with a coffee stop on the terrasse of Refugio del Pian followed by a fantastic descent to Canazei to end our trip in beautiful style !!

Night in Canazei.

Dismantle and pack bikes ready for departure the following day. Yes I think a well earned cold beer or two is a definite!
Ride distance: 50km
Uneven positive: 1300m Uneven negative: 1800m
Physical difficulty: 3/5 Technical skills: 3/5

Total ride distance: 320km !!!


<! -------- DAY 07 ------------------->

DAY 7 (Saturday): Departure to Bolzano or stay another night and appreciate this beautiful city…

If at the end of your tour you would like to book a supplementary night accommodation please advise us at time of booking.
<! -------- NB ------------------->
NB: this tour is run with a minimum of 4 clients. Lunches on Saturday of arrival and Saturday of departure are not included, but can be arranged at an additional cost.
<! -------------- FIN TEXTE CONTENU TRIP -------------------> <! -- ZoneTable DATES ETC....-->
Price
<! ------------------- ------------ DATES ------------------------->
Dates 2018

From June 16th to 23rd

From June 23rd to 30th

From June 30th to July 7st

From July 7th to 14th

From July 14th to 21st

From July 21st to 28th

From July 28th to August 4th

From August 4th to 11th

From August 11th to 18th

From August 18th to 25th

From August 25th to September 1st

From September 1st to 8th

From September 8th to 15th

From September 15th to 22nd

From September 22nd to 29th

From September 29th to October 6th

From October 6th to 13th

From October 13th to 20th

<! ------------------- ------------ FIN DATES ------------------------->

Level
MORE INFOS

---

Physical Fitness: 4/5 Technical Skills: 3/5 to 4/5

Distance
320 km
Ascent
8500 m
Descent
10800 m
Duration
8 days: arrival on saturday , departure on saturday
7 nights accomodation
6 days riding
Saturday to Saturday
Terrain

From easy to very technical singletracks (some very technical) 'rocky and rooty' trails.
Several hike a bike sections

Location

Starts in Bolzano Italy and finishes in Bolzano Italy

Lodging

7 nights accommodation in a mix of hotels
(based on double occupancy twin bedrooms) and mountain huts

Included

ALPSMOUNTAINBIKE cycling jersey

7 nights accommodation

all meals from dinner on Saturday of arrival to breakfast Saturday of departure

picnic lunches

Professional guiding

luggage transfer to evening accommodation (inc. mountain refuge)

Not Included

Flights/Travel etc

Expenses of repair and maintenance of bikes

Cancellation/medical insurances and repatriation costs

Acces to and from Bolzano Departure point

Bike hire

Alcohol and extra drinks

All that is not included/understood in the heading 'Included'.
<! -- / ZoneTable -->