<! -------------- TEXTE CONTENU TRIP ------------------->
Mountain Bike Holidays in the French Alps - The Tour of Mont Blanc: Chamonix - The 'Classic' alpine tour in France, Switzerland and Italy
Departing from Chamonix, France, we will ride in a clockwise direction, passing through the Martigny Valley, Switzerland, on to Courmayeur, Italy, back into France and return to Chamonix to complete the loop!
The trail brings us through alpine flower covered pastures, passes glacial lakes, skims below glaciers and snowy summits, crosses deep valleys and climbs high altitude passes. Riding around Mont Blanc, is about discovering the magic world of 'high mountain' biking...

Seven valleys, 71 glaciers, 400 summits, the Mont Blanc range is inspiring.
The Tour of Mont Blanc is dedicated to riders not afraid of long climbs or to carry their bike, downhills can be technical in places, but the scenery is breathtaking and you will soon forget the pain... We propose an original route known to us like the back of our hands.
We ride in the opposite direction to other tours, giving us the benefit of rideable ascents and fantastic descents free from crowds and close to nature, you will be awed by this legendary location.
<! -------- ARRIVAL ------------------->
The Schedule: arrival Saturday
Warning: This itineray is given for your information and may be changed at the discretion of the guide depending on the weather conditions, physical ability of clients and the trail 'options' we decide together.

DAY of arrival (Saturday): 'Meet and great' by ourselves at the airport and transfer to Chamonix. Deposit baggage at evening accomodation with view of Mont Blanc. Unpacking and preparation of bikes. Last minute shopping requirements and possibilty to visit Chamonix town.
<! -------- DAY 01 ------------------->

DAY 1 (Sunday):
From Le Tour, top of Chamonix valley, in the mornig ,we'll take the gondola to col de Balme and start with a "Skills Clinic" and pratice on balance, braking, improve position on the bike, how to ride a tigh corner, optimization of the driving post etc... The goal is to prepare you to the alpine riding so you can fully enjoy your experience in the Alps. In the afternoon we will ride the first technical descent down to the village of Trient in Switzerland and work to improve your skills in technical singletracks. We will ride down to Martigny where our assistance van is waiting for us to drive us to Verbier Ski resort for the night.
Ride distance: 40km
Uneven positive: 400m Uneven negative: 1500m
Physical difficulty: 2/5 Technical skills: 3/5
<! -------- DAY 02 ------------------->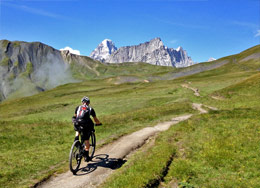 DAY 2 (Monday): Starting with the descent back to Martigny from where the views over the Swiss Alps and the valley of Martigny and its vineyards are vast. A long climb on the road towards Champex and its beautifull lake awaits us before lunch time. The afternoon is a gentle climb in the direction of the Swiss Val Ferret,skimming below glaciers and snowy summits. Arriving in La Fouly, at the foot of the Grand Col Ferret, the Italian Border.
Ride distance: 45km
Uneven positive: 1500m Uneven negative: 1100m
Physical difficulty: 3/5 Technical skills: 2/5
<! -------- DAY 03 ------------------->

DAY 3 (Tuesday):Climb of Grand Col Ferret, at 2500m finds us in Italy! This is one of the 3 major col passes of this Tour of Mont Blanc. Stunning scenery at the top of the col of the Italian Val Ferret and of the Italian side of Mont Blanc (or now Monte Bianco!) Descend to Arnuva and depending on weather condtions and the groups fitness levels, climb to la Lechere to arrive in chic Courmayeur by a superb singletrack. Next stop ice-cream!
Ride distance: 45 to 55km
Uneven positive: 1100 to 1700m Uneven negative: 1300 to 2000m
Physical difficulty: 3/5 Technical skills: 3/5
<! -------- DAY 04 ------------------->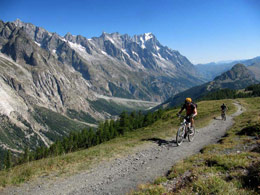 DAY 4 (Wednesday):Warm up on the road than we hit the trail to arrive at Lago Checroui facing the Italian side of Mont Blanc. A beautiful balcony trail giving us the chance to see famous summits such as Noire de Peuterey, La Blanche and the Italian glacier of Miage and Lago Combal (one of the largest glaciers of the Mont Blanc range). The climb of the Col de la Seigne brings us to the French border and is mostly rideable, however the end is quite steep and you may have to push your bike! The descent to Les Mottets is a fanstastic, technical singletrack, where you will find Martial grinning at the bottom as it is one of his favourites! The Refuge des Mottets is a rustic old farmhouse and dairy renovated to welcome trekkers and bikers and is a true alpine experience...
Ride distance: 35km
Uneven positive: 1500m Uneven negative: 1000m
Physical difficulty: 4/5 Technical skills: 3/5
<! -------- DAY 05 ------------------->

DAY 5 (Thursday):Starting with a road climb to Cormet de Roselend, then descending to Lac de Roselend followed by a long climb on a jeep track to the Col de la Gittaz at 2320m.
The col offers vast southerly views and of the neighbouring summits. We will then descend to Col du Joly, which is technical (in places), a very short climb and a long semi technical downhill to the village of Les Contamines Montjoie: 900m of descent on a fabulous singletrack!
Ride distance: 54km
Uneven positive: 1900m Uneven negative: 1500m
Physical difficulty: 3/5 Technical skills: 4/5
<! -------- DAY 06 ------------------->

DAY 6 (Friday):Last day but by no means the least... From Les Contamines Montjoie we will climb to Chalet de Miage, a summer altitude mountain village at the foot of the giant french glacier of Miage, where you will feel tiny compared to the size of these glaciers! From Miage we will climb the Col de Voza above Les Houches and the valley of Chamonix with Mont Blanc back on our righthand side... A final technical downhill to Chamonix to end up back at the base of the 'Lord of the Alps'.


Ride distance: 40km
Uneven positive: 1000m Uneven negative: 1200m
Physical difficulty: 3/5 Technical skills: 3/5

Total ride distance: 235 to 250km !!!



Dismantle and pack bikes ready for departure the following day.
Yes I think a well earned cold beer or two is a definite!
<! -------- DAY 07 ------------------->

DAY 7 (Saturday):Transfer to Geneva airport.
*Please make sure to book a late afternoon or evening return flight, due to the transfer time to Geneva airport from Grindelwald.

<! -------- NB ------------------->
NB: this tour is run with a minimum of 4 clients. Lunches on Saturday of arrival and Saturday of departure are not included, but can be arranged at an additional cost.
<! -------------- FIN TEXTE CONTENU TRIP -------------------> <! -- ZoneTable DATES ETC....-->
Price
<! ------------------- ------------ DATES ------------------------->
Departure
possible

Every Saturday from June 15th to October 12th <! ------------------- ------------ FIN DATES ------------------------->

Level
MORE INFOS
Distance
235 km
Ascent
7600 m
Descent
8500 m
Duration
8 days: arrival on saturday , departure on saturday
7 nights accomodation
6 days riding

Terrain

All kinds of trails !
Cruisy 2 path trails
From easy to technical singletracks (some very technical) 'rocky and rooty' trails.

Location

Starts and finishes in Chamonix, passes through France, Switzerland and Italy

Lodging

7 nights accommodation in a mix of hotels (based on double occupancy twin bedrooms)
bunk houses and a mountain refuge (group dormitory rooms)

Included

ALPSMOUNTAINBIKE cycling jersey

7 nights accommodation

all meals from dinner on Saturday of arrival to breakfast Saturday of departure

picnic lunches

Professional guiding

lift passes in Chamonix valley

luggage transfer to evening accommodation (inc. mountain refuge)

return transfer to Geneva airport on Saturday of arrival/departure

Not Included

Flights/Travel etc

Expenses of repair and maintenance of bikes

Cancellation/medical insurances and repatriation costs

Lifts passes in Zermatt

Bike hire

Alcohol and extra drinks

All that is not included/understood in the heading 'Included'.
<! -- / ZoneTable -->